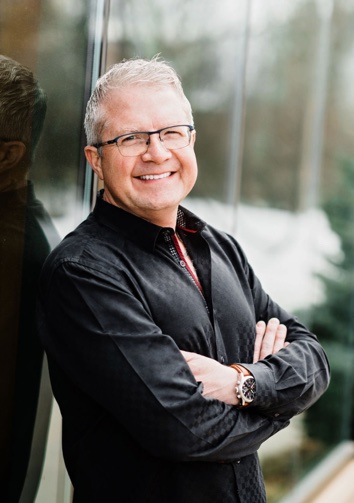 James W. W. McCreight, DDS (Dr. Jim) was born and raised in Davenport, Iowa. He received his BA from Luther College, obtaining a major in biology in 1991. After his undergraduate education, Dr. Jim went on to receive his dental degree (DDS) from the University of Iowa College of Dentistry in 1995. As a graduating senior, Dr. Jim was selected by the dental faculty to present the commencement address for the graduating dental and hygiene classes that same year.Dr. Jim continued his dental education by completing an advanced education in general dentistry (AEGD) through the Naval Dental Center of San Diego, CA in 1996. He was a commissioned officer in the Navy (Lieutenant) during this training period. Dr. Jim then worked at several dental clinics in San Diego and Yuma, AZ helping both active duty Navy and Marine personnel.
Dr. Jim and his wife and partner, Dr. Wendy McCreight, founded McCreight Progressive Dentistry (formerly Yampa Valley Dental and Associates, PC) in 1998. Drs. Jim and Wendy also founded the McCreight Smile Foundation in December 2006 which is a dental fund that directly supports victims of domestic violence of Northwest Colorado.
Dr. Jim is also a graduate of the Las Vegas Institute for Advanced Dental Studies (LVI), studying both cosmetic and physiologic dentistry. Dr. Jim was also selected as one of forty-eight clinical instructors in the world to teach at LVI. Currently, Dr. Jim instructs the Advanced Anterior and Comprehensive Aesthetic Reconstruction programs teaching dentists from around the world state of the art cosmetic and physiologic dentistry. Dr. Jim also serves as a key opinion leader (KOL) for several dental manufacturers including PerioProtect, Kettenbach, BioResearch and Dakota Pharmacy.
Dr. Jim maintains active memberships in the American Academy of Cosmetic Dentistry (AACD), American Academy for Oral Systemic Health (AAOSH), American Dental Association® (ADA), the Colorado Dental Association (CDA) and the Western Slope Dental Association. Dr. Jim also maintains active membership in the International Association of Physiologic Aesthetics (IAPA) and has also served the IAPA as a past president. Dr. Jim is also a multiple Paul Harris Fellow in Rotary International.
Dr. Jim enjoys the outdoors of Northwest Colorado with his wife and two kids, Hannah Alexis McCreight and Jackson James McCreight. Drs. Jim and Wendy live in Steamboat Springs, CO or also known as "Ski Town, USA."