Kissing Facts
You can always count on McCreight Progressive Dentistry for all the facts! This Valentines Day we decided to share some interesting Kissing facts with all of our wonderful Clients…. So, Pucker Up!
When you kiss someone for the first time, you get a spike in the neurotransmitter dopamine, making you crave more.
Two thirds of people tilt their head to the right when they are Kissing.
When you kiss someone your heart beats faster and more oxygen reaches your brain.
Women tend to rate Kissing as more important in relationships than men do.
The longest kiss lasted 58 hours, 35 minutes and 58 seconds.
When your lips touch someone else's 5 out of 12 of your cranial nerves are engaged.
Lips are 100 times more sensitive than the tips of the fingers.
Kissing at the conclusion of a wedding ceremony can be traced to ancient Roman tradition where a kiss was used to sign a contract.
The average person spends at least two weeks of their life Kissing
"Basorexia" means an overwhelming desire to kiss.
Wishing you a very happy Valentines Day!
Dr. Wendy and Dr. Jim McCreight along with their experienced Team at McCreight Progressive Dentistry offer exceptional dental care at our convenient Steamboat Springs, Colorado office.
Looking for a dentist in the Western Slope area? Please call us and schedule an initial hygiene appointment (970) 879-4703.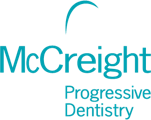 For other oral tips visit our website and check out our informative videos!
Make sure to Follow and Like us on Social Media; Facebook, Twitter, and Instagram for all the latest updates.
By: Anna Nierenberg, Director of First Impressions at McCreight Progressive Dentistry.